Main page
Photo Gallery
Weblog (RSS)
Interests
UK Farming Crisis
What's new?
Links
Contact me


External (open in new window)
Librarything profile
Snooth profile
Twitter (RSS)


Old posts:
May 2013 (1)
Apr 2013 (1)
Oct 2011 (6)
Sept 2011 (1)
Aug 2011 (1)
Jul 2011 (27)


Categories:
/books
/botany
/cars
/cars/oldcars
/computing
/computing/android
/computing/mac
/computing/unix
/music
/photography
/photography/cameras
/photography/experiments
/soporific
/stuffisaw
/stuffisaw/error_messages
/this_site
/travel
/travel/australia
/travel/australia/south_australia
/travel/france
/travel/france/burgundy
/travel/uk
/wildlife
/wine
/wine/oenology_diploma
/wine/vintage2011

Thu, 27 Oct 2011
The start of vintage
Vintage starts tomorrow. I am working as an intern/stagiaire in a negociant in Beaune (Remoissenet) thanks to the CFPPA's "Odyssey in Burgundy" course.

So far, no idea what to expect. I'm staying in the stagiaire's house. Accomodation is fairly basic, just a dormitory. Blankets would be nice....

No internet access there, so expect weblog posts to be somewhat intermittent. I'm looking into finding an SCP program for Android so I can type short posts on my phone and upload them.

Winery looks well appointed: lots of oak vats.

But I don't find out anything more until we start tomorrow....

posted at: 03:36 | path: /wine/vintage2011 | permanent link to this entry
The sorting table...
Not much to report, so not much blogging recently. The past few days I've been on the sorting table the whole time.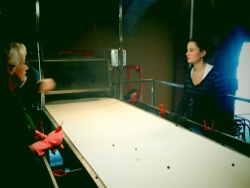 My view

It gets repetive, but it has its interesting points. It's certainly interesting to see grapes from different appelations come in. We've already had a few premier cru sites.

So far it's been only the Cotes de Beaune, but presumably we'll get Cotes de Nuits soon too.

Sorting has been quite aggressive, we're only keeping the good grapes -- no rot or unripe ones are tolerated. From this, it seems they're aiming to become one of the top negociants for quality (again, apparently they were during the 1940's and 50's). It will be interesting to see how the finished wines turn out: I think the insistance on stringent sorting will pay off in good quality wines.

Probably more sorting over the next few days. I hope I get to see some other aspects of how the winery works, too. I'm particularly interested to learn more about "spontaneous"/uninnoculated ferments (ie., using native yeasts, rather than cultivated yeasts). I'll have to see what happens.

posted at: 03:36 | path: /wine/vintage2011 | permanent link to this entry
Nearing the end of vintage...
The vintage is nearly over, for me at least. Next week I'll be doing a short course at the CFPPA, then that's it for now.

The vintage isn't really over: wines are still fermenting, and will be for a week or so more. I don't think any more grapes are arriving after this week, though.

The vintage didn't go exactly as I'd hoped: I spent nearly all my time on the sorting table, and ideally would have liked to help with a number of other things as well. Still, I think I've learnt quite a bit about how winemaking is done in Burgundy from talking to people, and watching how things are done in the winery.

After the course, I'm off for a brief visit to the Jura. I worry I might get there at harvest time, which might make it harder to visit smaller domaines. Still, I'll see what I can. And I'll post more frequent updates here...

posted at: 03:36 | path: /wine/vintage2011 | permanent link to this entry
Sat, 24 Sep 2011
CFPPA: Oddyssey in Burgundy
I wanted to blog about this earlier in the week, but never seemed to have time some how.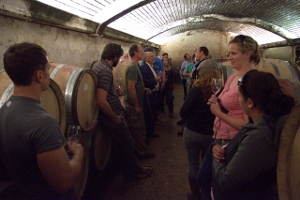 Some interesting parts, and some not so interesting parts. A highlight was a visit to Domaine Confuron near Nuits-Saint-George -- some excellent barrel samples, and a taste of a 1993 Vosne-Romanee 1er cru.

Not so good was a trip to the Imaginarium in Nuits-Saint-George -- some really interesting old winery and vineyard tools on display, but the sound and light display was not very well done (though unintentionally funny...) and detracted somewhat from the whole thing. It would have been nicer to just be able to look at their collection at your own leisure. But then, maybe that would be boring for people who aren't winemakers?

Another highlight was a visit to Remoissenet, where I had worked. Again, we got to try some older wines as well as barrel samples. Older wines included a 1997 Nuits-Saint-George and a 1967 Volnay 1er cru (still very much alive, and surprisingly fruity...). Barrel samples included 2010 Montrachet and 2010 Clos Vougeot... so can't complain there either.

Fellow students were mostly Australian & NZ winemakers and viticulturalists (plus one from Chile, one from California and one from Washington). It seemed that I was the only one not currently working in the industry, which was a bit intimidating at times. I kept telling myself that I'll be working in the wine "industry" one day (I don't really like to think of it as an industry... great wines aren't made in an industrial manner).

Well, it was a good week and I'm sad it's over. But, next stop is the Jura. I have a couple of appointments with wineries already lined up, and can't wait to get there!

posted at: 16:26 | path: /wine/vintage2011 | permanent link to this entry