Main page
Photo Gallery
Weblog (RSS)
Interests
UK Farming Crisis
What's new?
Links
Contact me


External (open in new window)
Librarything profile
Snooth profile
Twitter (RSS)


Old posts:
May 2013 (1)
Apr 2013 (1)
Oct 2011 (6)
Sept 2011 (1)
Aug 2011 (1)
Jul 2011 (27)


Categories:
/books
/botany
/cars
/cars/oldcars
/computing
/computing/android
/computing/mac
/computing/unix
/music
/photography
/photography/cameras
/photography/experiments
/soporific
/stuffisaw
/stuffisaw/error_messages
/this_site
/travel
/travel/australia
/travel/australia/south_australia
/travel/france
/travel/france/burgundy
/travel/uk
/wildlife
/wine
/wine/oenology_diploma
/wine/vintage2011

Fri, 01 Jul 2011
Phone review: Samsung Galaxy i5700 (aka Samsung Spica)
Originally posted: 5 July 2010
Updated: 4 Jan 2011

I've been meaning to write up a brief review of my new phone for a little while, here is my first attempt ;-). I'll probably update this as I think of new points to add.

Introduction
I recently bought a new phone, to replace my Sony Ericsson K750i. Initially I bought a HTC Tattoo, but for some reason I ended up with a 2G version of this phone. I was able to replace it with a 3G Samsung i5700. Since I'm fairly familiar with these three phones, most of my comparisons will be with these phones.

Reasons for upgrading from the K750i
I wanted:
A larger screen and touch-screen based interface;
The Google Android operating system, which has a wide range of useful apps;
GPS, with the ability to run navigation software such as NavIt;
Mobile email and web access.
3G (now that 4G is on it's way, I thought I should finally upgrade to a 3G phone...)
Additionally, my Sony had a cracked screen...

One thing I did not get from the upgrade is a better camera. The camera on the Sony Ericsson K750i is very good, and even though the Samsung has a 3.2 megapixel camera, it isn't quite as good as the 2 megapixel camera on the Sony. Both are better than the HTC Tatto, which lacks autofocus.

The phone
As a phone, it works pretty well. Once or twice, I've had it bring up the keypad whilst I'm talking on the phone and start dialling numbers, but it locks the screen after I've been talking for a minute or so which normally stops this. The way that my address book and calender are synced with my Google account automatically and wirelessly is great, and very useful.

The web browser is pretty good too, though sometimes it misinterprets my attempts to scroll down a page as zooming. I'll probably get used to this with practice, though. Both email clients (GMail and non-GMail) are good, and the push email facility with the GMail client is very handy. Both share the handicap that both force you to use top posting, which I am not a fan of. I prefer interleaved replies.

Oddly, sometimes it looses data connectivity. Sometimes the HSDPA/3G/GPRS logo disappears completely and the phone seems to be unable to access the mobile data network. Sometimes the logo remains, but the phone just fails to fetch email or load web pages. Rebooting the phone solves this problem. Recently it's simply lost all mobile connectivity once or twice, showing no network coverage in an area I know has good 3G coverage. It even claimed not to have a SIM card installed at one point. I am starting to worry about this... Again, rebooting helped.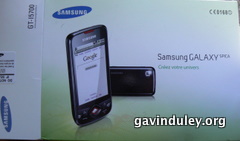 I bought my phone off MobiCity, which means I got the phone unlocked, cheap and with a warranty. It's an overseas model, but that doesn't bother me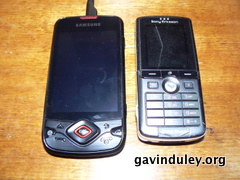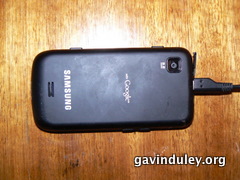 The Samsung i5700 next to the Sony Ericsson K750i, and the back of the Samsung i5700.

The camera
Is okay. It has autofocus, and manual control over ISO, white balance and a number of other things. Auto ISO seems to stay on ISO 100 most of the time, even when it's quite dark.

Both the HTC Tattoo and the Samsung i5700 have the ability to geotag photos (i.e., to tag photos with the GPS co-ordinates of where they were taken), though it never seemed to work for me with the HTC. It works and works well with the Samsung, though it does need to be given a few minutes to get a decent signal, or it ends up being as much as a few kilometres out.

The autofocus works well, and sometimes you can con it into taking close-up photos, though it is a bit unpredictable as to where it will decide to focus. Often, it will decide the background of a close-up photo is more interesting, and will focus on that. Again, the K750i was better here, this phone even had a dedicated close-up photography mode on the camera.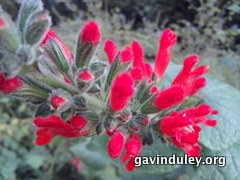 It has something claimed to be exposure compensation, but this does not seem to work as I would have expected. It appears to take the photograph, and then digitally make it darker or lighter afterwards rather than altering the exposure. Certainly, it does not work as well as the K750i. Here is a photograph where I attempted to use exposure compensation to stop the background burning out, instead, the whole photo has become somewhat grey. I guess there is a limit to what you can expect from a cameraphone.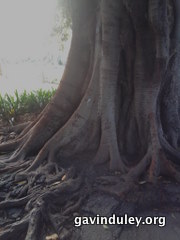 Here is another sample photograph: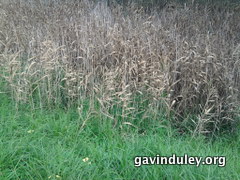 Click here for a full-sized file of the above image (note: it's 1.6 megabytes).

More photos: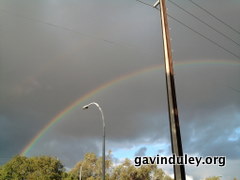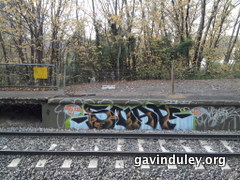 Google Android
A really nice phone operating system, that seems to start to blur the line between phone and computer. Sometimes it does feel more like using a computer than a phone. Which is no coincidence, it is a computer -- but then, so was my Sony Ericsson. This is just a more flexible computer ;-).

Having access to the web and email all the time is surprisingly handy. Google Maps has been a lifesaver many, many times when I've had to try and find my way somewhere. Google's Voice Search can't understand my accent (which is somewhere between a British accent and and Australian accent).

Annoyingly, it is not easily possible for the user to upgrade the operating system unless the manufacturer releases an update. This phone was first designed for Cupcake (Android 1.5), but Samsung supplied an update to Eclair (Anroid 2.1) which came pre-installed on my phone. Now that FroYo (Android 2.2) has been released and seems to be a big improvement again on Eclair, I'd like to try it out. I can't, until Samsung releases an update, if they ever do.

There are unoffical firmwares floating around for most phones, but these normally seem to involve downloading a .zip file off some forum somewhere. Though mostly these are probably 100% safe, I tend to worry a little about malware, especially since there's no way of knowing anything about the person who put the firmware together. Chances are they're just another Anroid enthusiast, but... well, I'm always paranoid. Additionally, as these are unofficial and probably not very widely tested, there is always the possibility of voiding the warranty and killing the phone...

Also annoying is, like a computer, the software can sometimes crash. Quite a few times I've taken the phone out of my pocket only to find that it's frozen completely, and I have to take the battery out and put it back in again to reset it. Sometimes apps crash, or run really slowly, but I guess that's unavoidable.

Grumbles aside, it's a very nice system, and I've come to really like the touchscreen interface. Most things just work as you'd expect, and it's all very nicely thought out. Not quite as elegant as the iPhone system, but it does have the advantage of being a more open system. I'm not sure I'd be willing to move back to another sipler proprietary mobile phone system such as that found on the K750i again, this just seems years ahead.

GPS navigation
The phone's GPS system seems to work, and work well. Using a program called 'GPS Status', I can easily get my co-ordinates, and use the phone's built-in compass.

As noted above, I've also installed an Android port of NavIt. This mostly works well, though sometimes it gives somewhat... eccentric directions. This seems normal for GPSes, though.

My only real annoyance with NavIt is that it does not seem to like quitting cleanly. Mostly, when you ask it to quit it simply hangs. Initially, with the HTC Tattoo, I resorted to removing the battery and putting it back in again to force the phone to reboot. At one point this annoyed NavIt to the point that it stopped working, midway through a daytrip (luckily, I had a printed map with me). I've since installed SystemPanel Lite, which enables me to kill NavIt when it won't play nice. I just hope that it doesn't decide to go on strike again.

It may not be such a problem now since Google Navigation is available in Europe and Australia. I tried this whilst I was back in the UK for a bit recently. It worked okay, though the software and I had a philosophical disagreement about what 'go straight ahead at the roundabout' means. I interpreted this as taking the road at 180° to the road I was currently on. It interpreted it as continuing on the same numbered road as I was currently on, even if this was at 90° to the road I was currently on (i.e., not straight ahead). I still maintain that I am right. This does not help when you're lost due to the large number of wrong turns you have taken... Seriously, it was a big help and helped me find my way around.

I found Google Maps and the GPS to be very useful when finding my way whilst walking. I found this to be invaluable when I visited France recently, and would have got lost a lot without it (my French is too poor to easily ask for directions...). It also helped that I could look up restaurant and winery reviews. I could not look up winery websites as T-Mobile UK blocks these as unsuitable for under-18s. I still haven't gotten around to going to a T-Mobile shop and proving to them that I am, in fact, over 18.

Conclusions
So far, this has been a very nice phone to use, and has done everything I want and more. I'd appreciate a better camera, and to be able to easily get OS upgrades directly from Google, but other than that it's been very good. Battery life is not as good as the K750i (no surprise, given the screen size) but is enough for one and a bit to two and a bit days. It's better to just recharge it every evening though (if you remember!).

It can be very annoying, too. When it works, it works beautifully. Sometimes it seems to slow... right.. down -- normally when I need to look something up in a hurry, or want to show it off to someone. The way it has simply lost mobile connectivity quite a few times is also a worry. I hope it is not a faulty phone...

All in all, a very nice phone (if not 100% reliable), and good value for money.

posted at: 01:50 | path: /computing/android | permanent link to this entry