Main page
Photo Gallery
Weblog (RSS)
Interests
UK Farming Crisis
What's new?
Links
Contact me


External (open in new window)
Librarything profile
Snooth profile
Twitter (RSS)


Old posts:
May 2013 (1)
Apr 2013 (1)
Oct 2011 (6)
Sept 2011 (1)
Aug 2011 (1)
Jul 2011 (27)


Categories:
/books
/botany
/cars
/cars/oldcars
/computing
/computing/android
/computing/mac
/computing/unix
/music
/photography
/photography/cameras
/photography/experiments
/soporific
/stuffisaw
/stuffisaw/error_messages
/this_site
/travel
/travel/australia
/travel/australia/south_australia
/travel/france
/travel/france/burgundy
/travel/uk
/wildlife
/wine
/wine/oenology_diploma
/wine/vintage2011

Fri, 26 Aug 2011
Dijon
My weblogging continues...

Today was meant to be the day I visited Gevrey-Chambertin. A train from Beaune stops there reguarly. I wanted to branch out, and see some of Burgundy beyond the Cotes de Beaune.

I hadn't counted on the weather. Rain, thunder, lightening. Not good. Especially with the grape harvest only days away. Mildew suddenly becomes a threat, and picking grapes in the rain is no fun.

So I go to Dijon. Dijon, to see the old streets and the cathedral with the gargoyles.

In Dijon, my first stop is the first church I see -- the church of St. Benigne. A lovely, typical Gothic church, it hides a secret: a romanesque crypt from the 11th century.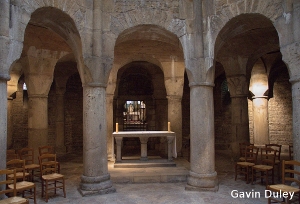 I descend. The first room is low and wide, with many romanesque columns. A statue of Christ, his arms outstretched in welcome. Another room: a rotunda, surrounded by columns. An altar. A doorway through to a gallo-roman chapel, once at ground level, now part of the crypt. Another doorway leads off, to more passageways. Most are still blocked, buried, yet to be excavated.

Reluctantly, I head back up into the daylight. The museum of archaeology nextdoor beckons. Here I find more treasures: a bronze age gold torc, more than 1kg of gold -- a metal more common then, oddly, than now. A roman statue of doves. Post-roman enamels and belt-buckles, intricate in their working.

The best is in the lowest level: an old medieval room full of roman funerary memorials, memories of the long dead. Early medieval wooden figures, dredged from river mud.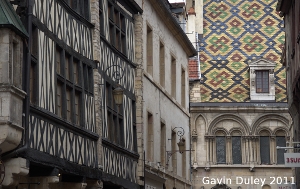 Street in Dijon

Out in the light again, I head for the Palais des Ducs. A follow one sign, only to find it leads in the wrong direction. I find another, and follow that. After walking around in circles, I find it eventually. It is now the town hall and the Musee des Beaux Arts. I wonder around, and see what I can of the exterior.

I notice another church: Notre Dame. I am drawn by the impressive gargoyles on the exterior. Coming closer, I notice portions of the portice still have some of their original paint, just faint traces but still there.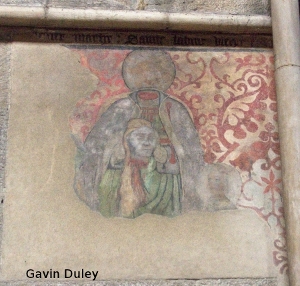 Inside, I notice a few original scraps of wallpainting survive from the 15th century. A service is in progress in a candlelit side chapel: song fills the church.

I head for the train. I don't like to leave: there is always one more thing to look at, another photograph to take. I don't want to miss the train, though. I head on.

At the station, I can't find the machine to validate my ticket. Eventually I find it, not on the platform, but inside the station. On the train I can relax: I haven't missed it, I'm getting back in time for dinner. Beaune beckons.

posted at: 09:10 | path: /travel/france/burgundy | permanent link to this entry