Main page
Photo Gallery
Weblog (RSS)
Interests
UK Farming Crisis
What's new?
Links
Contact me


External (open in new window)
Librarything profile
Snooth profile
Twitter (RSS)


Old posts:
May 2013 (1)
Apr 2013 (1)
Oct 2011 (6)
Sept 2011 (1)
Aug 2011 (1)
Jul 2011 (27)


Categories:
/books
/botany
/cars
/cars/oldcars
/computing
/computing/android
/computing/mac
/computing/unix
/music
/photography
/photography/cameras
/photography/experiments
/soporific
/stuffisaw
/stuffisaw/error_messages
/this_site
/travel
/travel/australia
/travel/australia/south_australia
/travel/france
/travel/france/burgundy
/travel/uk
/wildlife
/wine
/wine/oenology_diploma
/wine/vintage2011

Fri, 01 Jul 2011
Picking the 2010 Waite Shiraz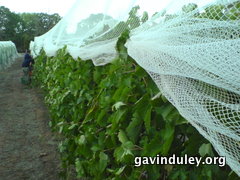 I helped out with picking the Shiraz (aka Syrah) allocated to my group from the Coombe vineyard on the Waite Campus today. We started picking at about 6:30, and I carried on until 10:00 when I had a lecture I had to attend. Others carried on until all our three and a half rows were picked, and we had around a tonne of fruit.

The fun part of this for me getting up at 5 am. It's something I can do if I have to, but I certainly don't enjoy it. It was worth it, though, once I got out into the vineyard.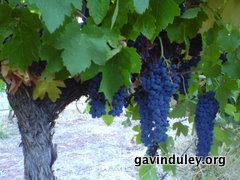 South Australia has experienced a really hot year this year -- again -- and this was particularly evident from seeing how some of the grapes were shrivelled on the vine. Here is the worst example I found: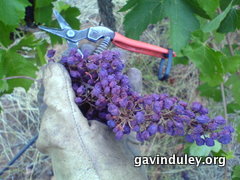 ... but that was the exception rather than the rule. More common were bunches where a percentage were burnt, and the rest were fine: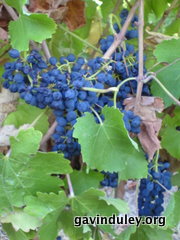 As the burnt grapes will be removed by the crusher-destemmer, we were told it was fine to include them with the picked grapes.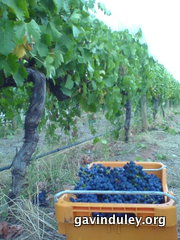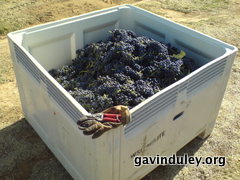 Also, we can haz tractor! Luckily for everybody, I wasn't allowed to drive it ;-)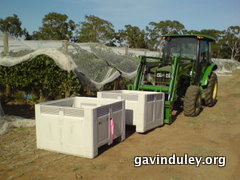 Next week sometime, we'll pick the Mataró. I've got so many classes next week, I'm not certain I'll manage to do much towards that, which is a shame. I'm not the fastest picker by a long way, so I doubt it'll make much difference to how quickly the grapes are picked, but (in short stretches) it's an interesting thing to try.

Next challenge: actually making this into wine.

posted at: 01:50 | path: /wine/oenology_diploma | permanent link to this entry